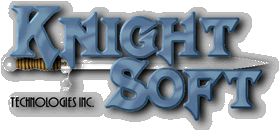 Come play with us!
KnightSoft Technologies Inc. is a small company, based in Montreal (Canada) devoted to create network related applications and games.
Our first project is the popular strategy game Metal Knights (http://metalknights.com). The project began in 1992 as a hobby, just for the fun of it, and the fun of playing it with friends! But quickly, even though the game was not yet completed, thousands of new addicts started to play on a regular basis. This impressive success convinced us that it was worth working on it full time, and making the game always better and better...!
So KnightSoft was born...
| | |
| --- | --- |
| | Our second main project a space strategy game called StarKnights (http://starknights.com). Built on the success of our first game, StarKnights uses a technology far beyond what we've seen anywhere else yet. Please don't miss the web site! |
---
KnightSoft Technologies Inc. 2020